Shell ROTELLA Triple Protection Diesel Oil | Diesel Oil Change Maple Creek
TRIPLE PROTECTION PLUS TECHNOLOGY IN OUR HEAVY DUTY DIESEL ENGINE OILS
Shell ROTELLA® is proud to announce a change to our hardworking portfolio of heavy duty diesel engine oils. We wanted to create the most technically advanced Shell ROTELLA® formulation ever. And we did. We also aimed to clearly organize our portfolio so you knew which oil to choose.
Shell Rotella® Diesel Oil Products: Diesel Engine Oils, Coolants, Antifreeze, and More
The Shell ROTELLA® family of products is built on the Triple Protection legacy of performance. And now we're proud to announce the next evolution in hardworking protection.
Lubrication Limited Warranty
The Shell ROTELLA® Lubrication Limited Warranty for heavy duty diesel engines brought to you by the world's #1 Lubricants Supplier. Valid for Shell ROTELLA® customers that change their oil at Murray's. Covers ten (10) heavy duty diesel engine parts and is transferable up to 125,000 km.
ROTELLA® T5 vs T6: What is the Best Diesel Oil for Your Vehicle?
Consider your vehicle/equipment and what it means to you and your business. You are pressed to keep it on the road while at the same time managing your overall costs. You need to know your oil will protect your engine under all driving conditions. No matter how hot, cold, or extended your operations, you demand protection.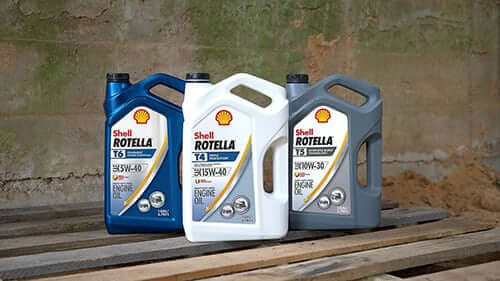 Meet a new, harder working bottle and label
A new design to help make your hard work easier. Now available at Murray GM Maple Creek.
Improved cap design for easier opening
Two handle design for easier carrying
Improved pouring capability